Winter is just around the corner and it's important to start thinking about how to protect your plants from frost. The temperature is already dipping and even before the winter kicks in there's always the chance of a cold snap. Unfortunately, frost can damage or even kill even the hardiest of plants.
Here at Genesis Gardens, we're passionate about wildlife-friendly and sustainable gardening. So, in this blog post, we'll share some tips on how to protect your plants from frost in a way that's kind to the environment.
Planting considerations
Choose the right plants for your location. When choosing plants for your garden, it's important to consider their hardiness rating. This will tell you how much cold weather a plant can tolerate. You can find hardiness information on plant labels or online. It's best to choose that are native to your area, or that have been bred to withstand cold temperatures.
Locate tender plants in sheltered spots. Frost is more likely to occur in open areas (also known as frost pockets) where cold air settles, so try to plant your tender plants in sheltered spots, such as against a south-facing wall or under a tree. This way they will receive some natural frost protection. 
Harden off young plants before planting them outside. This means gradually exposing them to cooler temperatures over a period of time. 
Caring for your plants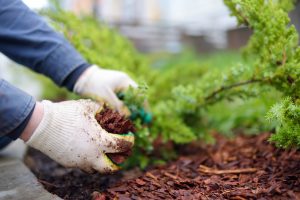 Once they're in the ground, there are several practical steps which will help protect your plants from frost: 
Avoid fertilising your plants late in the season. This can encourage new growth, which is more susceptible to frost damage. 
Mulch around your plants. Mulching helps to insulate the roots of your plants and protect them from frost. Use a thick layer of organic mulch, such as bark chippings, well-rotted manure or compost, around your plants. Don't forget that fallen leaves can also work well as mulch – check out our previous blog for more information. 
Cover your plants. If a frost is forecast, you can cover your tender plants with a frost blanket or horticultural fleece. Be sure to weigh down the edges of the covering to prevent it from blowing away. Straw and bracken are also good insulating materials, but you'll need a 5-7.5cm (2-3") layer secured with wire netting or similar. You could also consider a cold frame, but be aware this may still need additional frost protection when there's a heavy frost. It's worth noting that polystyrene can be used as an insulator but we do not recommend using this because it breaks down outdoors and the chemicals can leach into the soil and polystyrene isn't good for wildlife. 
Water your plants deeply. Well-watered plants are more resilient to frost. If frost is expected, water your plants deeply in the morning so that the soil has time to dry out before nightfall (yes, water even in winter if there hasn't been significant recent rain). Watering deeply helps the soil to retain heat. However, avoid watering in the evening as this can make plants more susceptible to frost damage.
Bring plants indoors. If you have very tender plants which cannot withstand any frost, you may need to bring them indoors for the winter. Place them in a bright spot where they won't be exposed to drafts and water them regularly.
Protecting specific types plants from frost
Here are some additional tips for protecting specific types of plants:
Roses: Wrap the base of your rose bushes with horticultural fleece or bubble wrap. You can also cover the entire bush with a fleece or bell jar.
Fruit trees: Cover the branches of your fruit trees with horticultural fleece or netting. This will protect them from frost damage and from birds pecking at the buds.
Vegetables: Cover your vegetable plants with a fleece or cloche. You can also bring them indoors if you have a greenhouse or cold frame.
Pots and containers: Move your potted plants to a sheltered spot. You can also wrap the pots in hessian or fleece to insulate the roots.
If your plants are damaged by frost
If your plants are damaged by frost, don't panic! It's best not to prune them immediately. Wait until the spring to see what recovers – you may be surprised! 
Make a note of any plants which are damaged by frost so you can take extra precautions in future years. 
Wildlife-friendly and sustainable frost protection tips
Use organic mulch, such as bark chippings or compost. This will help to insulate the roots of your plants and protect them from frost, while also providing food and shelter for wildlife.

Avoid using chemical frost protection products. These can be harmful to wildlife and the environment.

Attract beneficial insects to your garden. Beneficial insects, such as ladybirds and lacewings, can help to control pests and diseases, which can make your plants more resilient to frost damage.
About Genesis Gardens
Genesis Gardens is a North Wales-based gardening company with a wildlife-friendly and sustainable focus. We offer a range of gardening services including garden design, garden maintenance and plant sales. We are committed to providing our clients with high-quality services and products, and to helping them to create beautiful and sustainable gardens.
We hope this blog has been informative. If you have any questions about protecting your plants from frost or would like some practical assistance doing this, please do not hesitate to contact us. We would be happy to help.