Winter can be a tough time for garden ponds, but with a little care and attention you can help keep your pond and its inhabitants healthy and safe. Read on for some top tips from the team at Genesis Gardens.
Prepare your pond for winter
Remove any dead or dying leaves and plants. This helps reduce the amount of organic matter that decomposes in the water, which can lead to low oxygen levels and poor water quality.

Cover your pond with netting to prevent leaves and other debris from falling into the water. This is especially important if you have trees overhanging your pond. It will also help to prevent ice from forming on the pond.  

Check your pond equipment such as pumps, filters and heater and make any necessary repairs. 

If you have fish, start to reduce their feeding as the weather cools down. Fish have a slower metabolism in the winter and don't need as much food. 

If you live in a very cold area, you should install a pond heater to prevent the water from freezing completely. This is especially important if you have fish.
Maintaining your pond over winter
Keep an eye on the water level. If the water level drops too low, it can damage your pond equipment and stress your fish.

Remove any ice that forms on the surface of the pond. This will help to ensure that oxygen can get into the water.

If you have a pond heater, keep it running throughout the winter.

Continue to feed your fish, but at a reduced rate. At low temperatures (10°C or less) feed special winter food once or twice a week. This food is high in protein and fat and will help your fish to stay healthy over the winter. Feed daily again when the temperature rises above 10°C.

Check your pond equipment regularly to make sure that it is working properly.
Tips for a healthy pond in winter
Plant plenty of oxygenating plants in your pond. These plants will help to keep the oxygen levels high in the water, which is important for fish and other aquatic life.

Create a deep area in your pond where fish can overwinter. This will help to protect them from the cold weather.

Provide your pond with some shelter from the wind and snow. This will help to keep the water temperature more stable.

Be careful not to overload your pond with fish. Overcrowding can lead to stress and disease.
Wildlife in and around your pond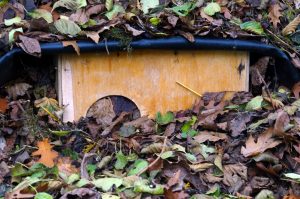 Winter can be a tough time for wildlife, but your pond can provide a valuable refuge for birds, frogs, toads and other animals. Here are a few tips to help you support wildlife in your pond over winter:
Provide a source of food and water for birds by putting up a bird feeder and filling a birdbath with fresh water.

Leave a gap in the ice on your pond so that wildlife can access the water (ideally, remove the ice completely). 

Be careful not to use chemicals in your pond, as these can be harmful to wildlife.

Make sure Hedgehogs and other wildlife have an escape route from your pond by creating a ramp or sloped exit.

Pile up some leaves and logs near your pond to provide shelter for wildlife.
Follow these helpful tips to help keep your garden pond healthy and safe over the winter. This will give you and the wildlife who call your pond their home a place to enjoy all year round.
About us
Genesis Gardens is a North Wales-based gardening company with a wildlife-friendly and sustainable ethos. We offer a wide range of services, including garden design and construction, pond maintenance, and wildlife gardening. Contact us today for a free consultation.